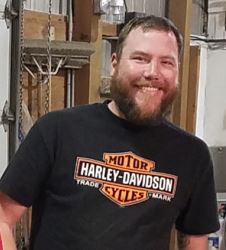 EMPLOYEE SPOTLIGHT — NICK MILLER
Hometown: Hilliard, Ohio
Current Position: Project Manager
Years of Service: 18 Years
Favorite Quote: "Don't mistake my kindness for weakness. I am kind to everyone, but when someone is unkind to me, weak is not what you're going to remember about me." – Al Capone
Favorite Project to Date & Why: My favorite project to date is the ODNR Lock 4 Repair. This was a unique project in that ODNR contacted Righter for recommendations on how to repair an eroding island near the low head dam. If it was not fixed, the island would wash away causing issues at the dam. Righter contacted an engineering firm and performed the project as a Design/Build. Righter installed sheet piling and poured concrete, which provided a seal around the end of the island.
Hobbies: Riding motorcycles, auto racing and target shooting
THE RIGHTER COMPANY APRPECIATES NICK'S DEDICATION, HARD WORK AND GREAT SENSE OF HUMOR!