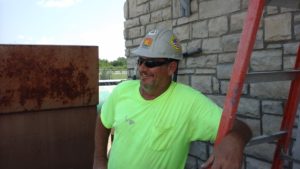 Employee Spotlight:  Vince Gaus
Hometown:               Westerville, Ohio
Current Position:       Leadman
Years of Service:        32 Years
Favorite Quote:         "You can't hardly blame her. She's only human."
Favorite Project to Date (& Why):      Highland Park & Aquatic Center on Spring Street in Westerville. It was a waterslide project that Righter completed around 1990. Jerry Yantes was the Supervisor. Righter constructed a wooden tower and platform, footers and supports and assembled and installed a fiberglass waterslide. It was a fun job! The crew members participated as test dummies at completion!
Hobbies:                      Golf, bowling and target shooting
THE RIGHTER COMPANY APPRECIATES VINCE'S DEDICATION AND HARD WORK!