On Friday, December 8, 2017, employees of The Righter Company, and some of their family members and guests, joined together in the shop area for Der Dutchman food (and pies!!!), fellowship, games and service awards.  This year, we also celebrated the upcoming retirement of one of our longtime employees, Richard Fink.  His total time of service to the company is just over 30 years.  Richard has worked as a Carpenter, Foreman and, in recent years, as a Field Supervisor.  His last project with Righter was Kingston Water System Improvements, which consisted of installing replacement chemical feed equipment, minor piping/metering improvements/electrical and control improvements and installation of standby power facilities at the existing village WTP and wellfield.
We wish Richard much relaxation and happiness in the years to come!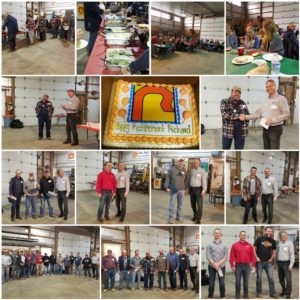 Watch the video tribute to our hard-working field employees!