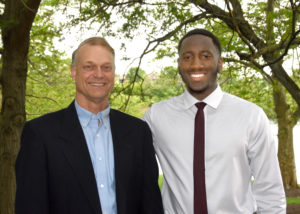 Congratulations to Terry Johnson, the 2019 recipient of The Donald W. and David M. Righter Scholarship for Civil Engineering and Construction Management.  The scholarship honors the late founders of The Righter Company, Donald W. Righter, and his son, David M. Righter.
A record $110,000 in scholarships were awarded to 48 students who are pursuing a two or four-year construction-related degree! Since 1959, the BX Scholarship Program has awarded nearly $1.5 million in awards to students seeking careers in construction-related fields.
Pictured is Bradley R. Nadolson, President of The Righter Company, and Terry Johnson, 2019 scholarship recipient.  Terry will be a Junior at The Ohio State University in the Fall and is pursuing a Bachelor's Degree in Construction Systems Management.  The Righter Company wishes Terry much success in his future endeavors!