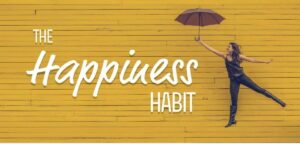 Most people start the New Year with lofty goals to kick bad habits. What if this year, we start new habits? When a behavior becomes habitual, it feels easier and more natural so why not make things that make you happy part of your routine? It's important that you pick habits that make YOU happy, but here are some ideas:
Get active. Moving your body – no matter what activity you choose – relieves stress and can help you sleep better.
Do what you like. Whether it's listening to your favorite album, watching sports or making art, make time for your hobbies often.
Spend time in nature. Find a place you can go for restoration whether its gardening in your backyard or hiking your local trails.
Spread happiness. Do something for others without being asked. You can feel good about giving back and caring for your own well-being at the same time.
Cherish the little things. Generally happy people don't experience constant highs. They build happiness one small moment at a time.
Be kind to yourself if you have a bad day – all humans have them. Your happiness habits can help you bounce back and revitalize your energy.
Brought to you by Righter's EAP program, New Directions Behavioral Health.