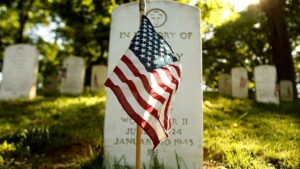 Memorial Day, as Decoration Day gradually came to be known, originally honored only the lives lost while fighting in the Civil War. During World War I, the United States found itself embroiled in another major conflict, and the holiday evolved to commemorate American military personnel who died in all wars, including World War II, The Vietnam War, The Korean War and the wars in Iraq and Afghanistan.
Cities and towns across the United States host Memorial Day parades each year, often incorporating military personnel and members of veterans' organizations. Americans also observe Memorial Day by visiting cemeteries and memorials. Some people wear a red poppy in remembrance of those fallen in war—a tradition that began with a World War I poem. On a less somber note, many people take weekend trips or throw parties and barbecues on the holiday, perhaps because Memorial Day weekend—the long weekend comprising the Saturday and Sunday before Memorial Day and Memorial Day itself—unofficially marks the beginning of summer.
(Source:  https://www.history.com/topics/holidays/memorial-day-history)
This year may be different in that we may be celebrating at home instead of traveling or we may have smaller celebrations but hopefully we will still pause for a moment to remember the reason for the holiday.